Women in Power - Government - How Does The Picture Compare To The National One?
Author: Joseph , Developer
Published: September 27, 2017 11:42 am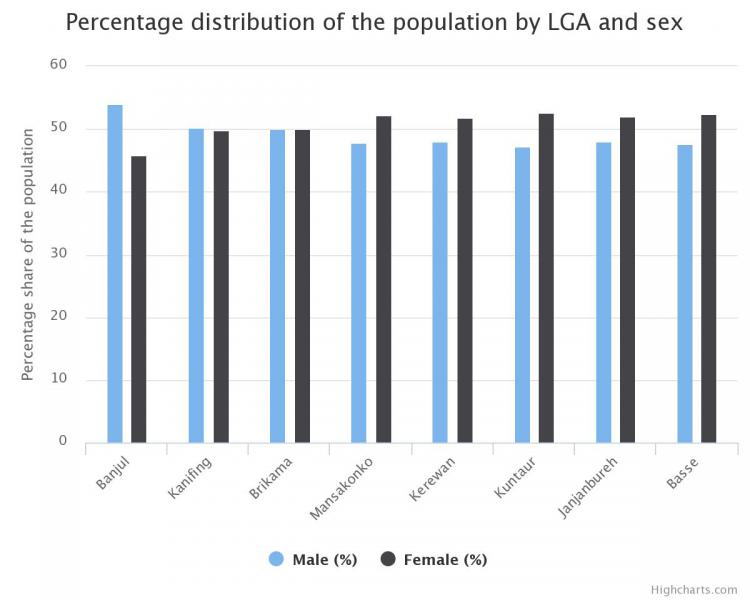 In January this year, former president Yaya Jammeh was ousted through a peaceful vote by a coalition led by his Excellency Adama Barrow. A new government was subsequently assembled ushering in the new Gambia.
The newly assembled cabinet of The Gambia composes of 14 males and 4 females including the vice president and minister for women's affairs. These 4 female members of the cabinet translate to a 22.22% share of the current cabinet, for females.
Later on this year on the 9th of March, the President Adama Barrow appointed and swore-in 15 permanent secretaries. Only 3 of them were female representing 1 out of every 5 appointees.
Compare the above to the overall demographic. The male/female split of the Gambian population according to the 2013 census is 49.2% (913,755) and 50.8% (943,426) respectively.
According to the Integrated Household Survey (IHS) conducted in 2015/16, the total population of The Gambia is 1,922,950.The same survey puts those within working age (7 years and above) at 1,489,524 (77%). 53.1% of those within the working age range are female.
This shows that despite females representing 52 out of every 100 people in the country and likewise those within working age range, they remain significantly under-represented in positions of authority within the government of The Gambia.
SOURCES: Census 2013 and Integrated Household Survey 2015/16